Mathematics | Edexcel | Easter Revision Course 2020 | London
St Mary's University, Twickenham | Tuesday 14th – Friday 17th April
A four-day intensive revision course which aims to provide second year A level Maths students with the knowledge, exam technique and confidence to fully achieve their potential in the summer exam.
The Edexcel Maths course will cover the key exam areas:
•Pure Maths
•Mechanics
•Statistics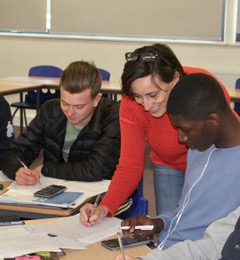 Susanne has been enjoying teaching Mathematics for the past twelve years following a previous career in IT both here and in Europe. Her teaching experience ranges from Key Stage 3 through to A Level. She is passionate about helping students achieve their full potential and loves that 'light bulb moment' when all the dots suddenly connect.
Course Location
St Mary's University, Strawberry Hill Campus, Waldegrave Rd, Twickenham TW1 4SX