Physical Education | OCR | Easter Revision Course 2020 | London
St Mary's University, Twickenham | Tuesday 14th – Friday 17th April
Confused by Bernoulli's principle or finding it difficult to pick up full marks in extended answers?
Our four-day intensive revision course provides second year A level students with the knowledge, exam technique and confidence to fully achieve their potential in the summer PE exam.
Our PE tutors tailor each course to not only cover the syllabus content but to also focus on specific areas highlighted by students.
The course will cover content across the three examination papers:
• Physiological factors
• Psychological factors
• Socio-cultural factors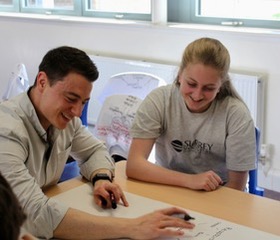 Stephen is a current Head of PE and has been teaching OCR PE for over ten years. His teaching experience is exclusively within the sixth form college sector, making him a specialist in his subject area. He is an enthusiastic and energetic teacher who enjoys sharing his passion for the subject with the students. Stephen has also successfully completed an MA in Education, focusing on revision strategies to improve performance within A Level PE.
Course Location
St Mary's University, Strawberry Hill Campus, Waldegrave Rd, Twickenham TW1 4SX